SUPPORTIVE CHALLENGE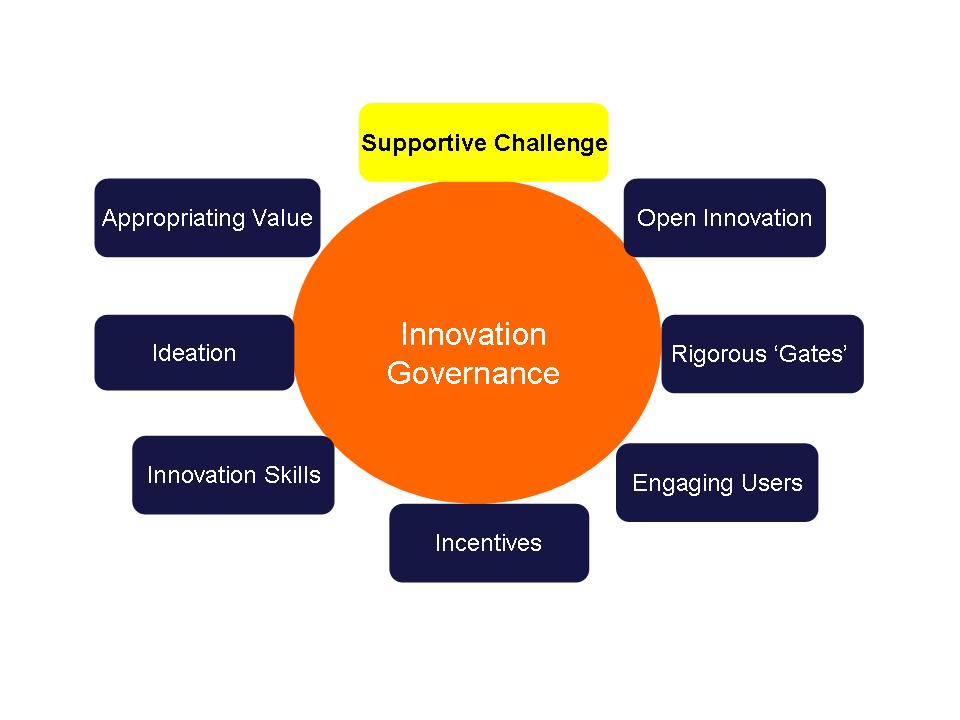 Forging passion

Managing an innovation project is a demanding activity requiring leadership skills to motivate and direct a high performing team, ability to overcome unexpected developments and set-backs, keeping stakeholders on board, building relationships internally and externally. Passion and optimism are essential prerequisites to pulling this off.

However, drive, passion and optimism can result in conceptual lock-in and lack of perspective, and can leave a team blind to adjacent, more attractive opportunities, or floundering against obstacles they lack the know-how to overcome. These attributes can also cause a conspiracy of optimism, and reluctance to 'hand over ones baby' when delivery skills need to take up the lead.

For these and other reasons, creating an environment where innovation activities can be subjected to constructive challenge is an essential feature of good innovation practice. It is important to stress that challenge is not the same as having review gates, although a rigorous structure of gates helps to provide a climate of mutually understood risks and buy-in that builds confidence in an innovation team and avoids defensive reaction.

It is worth pointing out that while narrow focus on a leading route to market is often the right tactic, many innovative ideas have found early exploitation routes in down-scoped incarnations which happen to hit a sweet spot, able to generate revenue much earlier that the target opportunity. Supportive Challenge plays an important role in exposing such avenues.

Examples of a supportive challenge approach are:
A small group of people with previous innovation track record who spend regular intensive sessions with the innovation team. Their role is to focus on the areas where the team's skill set is least strong, stand back to ask questions the team may have missed, and seek ways to overcome obstacles, eg by bringing in new expertise.
Senior review workshops. Having informal sessions with an organisation's top leadership team (or the people who would eventually make gate go/nogo decisions) to socialise the opportunities and risks, garner advice and experience, align with or influence evolution of wider business strategy. Such reviews can be immensely valuable to a team's thinking, and provides richness to the understanding of the senior executives. It means that formal gate reviews can be highly focused, building on the previously created understanding.
Red team review. Takes many forms, one of the most constructive approaches is to bring together a multi- disciplinary group with deep expertise in product and market aspects to test ideas and, as important, offer ideas on alternative offerings that might address a market more rapidly or open up opportunities adjacent to the mainstream approach.
Black teams. Especially with innovation activities that involve substantial investment, some companies commission an independent 'black' team to identify all the objections and weaknesses, and develop counter strategies that a competitor might adopt. Although this is, by definition, not directly supportive, it can be expected to provide much input to make an innovation activity more robust to subsequent failure, and promotes shared understanding of the risks that is a key element in sustaining investment.
Supportive Challenge Governance Questions
Is there an established means to bring experienced oversight to bear and infusion of skills into innovation teams, delivered in a trusted, close in way?
Is there opportunity for innovation projects to meet informally with senior executives to socialize the benefits, risks and strategic implications, and draw from senior expertise, separate from the gate go/nogo decision process?
Is there a means to bring expertise from across the business to red team progress at key points?
Are Black Teams used to test competitive alternative ideas before substantial investment is made?
Is there a routine way to get independent validation of assumptions and competitor reactions?